ABOUT
A clap of thunder heralded the passing of Charlie "Bird" Parker. Baroness Pannonica de Koenigswarter, who gave Parker refuge and comfort during his final days in her suite in the Hotel Stanhope on 5th Avenue in New York, recalled, "At the moment of his going, there was a tremendous clap of thunder. I didn't think about it at the time, but I've thought about it often since; how strange it was." One musician speculated that Parker disintegrated into "pure sound."
Charlie Parker had lived life to its fullest. Robert Reisner, a friend of Parker and author of Bird: The Legend of Charlie Parker, observed, "Charlie Parker, in the brief span of his life, crowded more living into it than any other human being. He was a man of tremendous physical appetites. He ate like a horse, drank like a fish, was as sexy as a rabbit. He was complete in the world, was interested in everything. He composed, painted; he loved machines, cars; he was a loving father ….No one had such a love of life, and no one tried harder to kill himself…." Dr. Richard Freymann, the attendant physician during Parker's final days at the Stanhope Hotel, judged him fifty-three years old. He was thirty-four at the time of his death.
Parker's early death came as no surprise to those who knew him well. After becoming hooked on heroin at the age of sixteen, he struggled with drug addiction, alcohol abuse and mental illness for the rest of his life. Over the years, his massive consumption of alcohol and drugs ravaged his already fragile physical and mental health. Bandleader Jay McShann observed, "I knew it was going to happen sooner or later. The way he was goin' with that dope and all. He could only last so long."
During his short life, Parker changed the course of music. Like Louis Armstrong, Duke Ellington, Miles Davis and John Coltrane, he was a pioneering composer and improviser who ushered in a new era of jazz and influenced subsequent generations of musicians, writers and artists.
Jazz historian Martin Williams judged that Parker influenced "everyone." In 1965, jazz pianist Lennie Tristano observed that, "If Charlie Parker wanted to invoke plagiarism laws; he could sue almost everybody who's made a record in the last ten years."
Born in Kansas City, Kansas on August 29, 1920, Parker cut his musical teeth hanging out in the alleyways behind the nightclubs lining 12th Street in Kansas City, Missouri where Count Basie, Lester Young, Mary Lou Williams and other jazz legends engaged in marathon jam sessions.
"YOU
CAN TELL
THE HISTORY
OF JAZZ IN
FOUR WORDS:
LOUIS ARMSTRONG.
CHARLIE PARKER."
-MILES DAVIS
SPOTLIGHT
BIRD & DIZ
This date from June 6, 1950, was an unusual one for Charlie Parker. He chose to play with fellow bop creators Dizzy Gillespie and Thelonious Monk, in a striking reunion with the trumpeter and the only occasion on which Parker recorded with the pianist. Though the three may have felt encumbered by the presence of swing drummer Buddy Rich, they're in brilliant form, with Parker and Gillespie spurring one another to heights that range from the warm to the electric. Bird's ideas flow with characteristic ease and swing while Gillespie sparks and flares. It's unlikely that anyone else but Gillespie could match Parker on the dazzling interplay of "Leap Frog," a performance supplemented by several alternate takes. Monk's characteristically skewed solos are a rare delight in what is otherwise an orthodox bop setting. The tunes are all Parker's except for "My Melancholy Baby," which inspires witty play.
Grab your copy of this legendary album on 180 gram vinyl TODAY!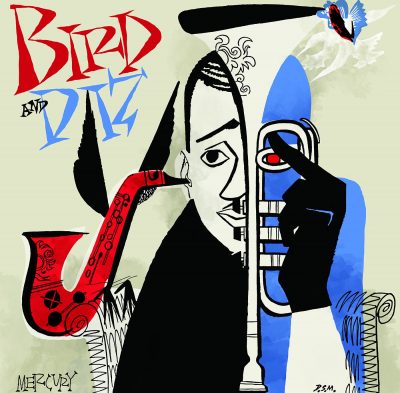 Charlie Parker Newsletter
Subscribe to the newsletter for the latest information on Charlie Parker